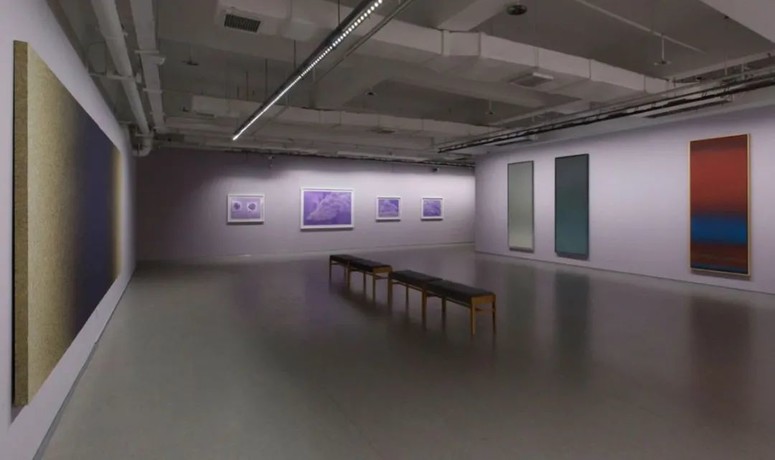 "Puzzles" discusses several trends in contemporary art with the specific aim of examining the issues from the perspective of Xi'an and the context of its art ecology. Focusing on four distinct topics, the exhibition explores the relationship between contemporary art as practiced in Xi'an and China in general. In it, we join up the dots represented by individual artistic positions as a means of deducing a picture of the scene. The exhibition contrasts the work of artists living and working in Xi'an with a similar number of non-local artists. Xi'an might lie at the edge of the contemporary art in China, but the current problems that artists are dealing with here are essentially the same as those faced by contemporary artists across China. The exhibition is divided into three sections, each of which deals with one of our topics. The subtext of each section title carries a double meaning, which lies between its literal meaning and its sense within the local dialect. For example, beyond its literal meaning, "puzzle", taken as the title for this exhibition, also means "small" in the Xi'an dialect.
"Puzzles" as the grand finale to this year's programme of events "About Art and Xi'an" also looks at painting in Xi'an in the wider context of other painters at work in cities both near and far. Some of these artists have a connection to Xi'an, having been born or studied in Xi'an, where for others the connection is less direct. The careful selection of works that Wang Mengmeng has undertaken reflects the concerns of artists immersed in their practice within a cultural context steeped in history and somewhat resistant to contemporary ideas. This dilemma is both conscious and subconsciously manifest in the choice of approach, style and subject- matter that each artist brings to their expression. The ecology here thus imbues the work with a unique sensitivity. For our audience, this is reflected in the diverse materials brought to producing these works as much as the content they are used to express.
Within the context of the exhibition as a whole, the phrase "puzzles" has two meanings. The first points to a puzzle as something that prompts questions; such as how we unravel problems by examining individual elements or fragmentshere the fragments can be understood as the art works. Each becomes a prism which reflects reality in a variety of shapes. Second, as mentioned, the character for "puzzle" means "small" in the Xi'an dialect. It thus summarizes the local artistic ecology and invokes the issues facing contemporary art circles in Xi'an. Following almost thirty years of development, these circles remain fragmented and incoherent. This condition is perpetuated not only by the absence of representative artists, but has a deeper effect upon the overall situation for art in the city, such as discouraging the development of academic depth.
The four main topics selected here centre on tendencies within contemporary painting. The first, titled "Made Painting", is concerned with new ways of painting in terms of deploying alternative skills to those with which we are more commonly familiar. Nowadays, painting is a kind of philosophical expression, no longer concerned with purely objective reappearance. Instead, a means of reconstructing the world — a conduit for knowing more of the world. It reproduces neither truth nor lie, but a kind of intersection between the two. It redefines the boundaries of painting versus anti-painting as well as that between realism and abstraction, installation and design, painting and science. In terms of concept and language, when personalization as a process of painting is replaced by more mechanical means, how does the art work still convey the unique personality of artist?
In the section titled "Not Bad! Painting", the criteria for selecting works lies somewhere between concepts of "good" and "bad" painting. It thus expresses a sub-problem which derives from a different perspective and special focus. The meaning is illustrated not in the style of painting by artists already recognized as practitioners of "bad painting", but to artists whose works have a distinctive concept that is the typical sense of bad painting. Instead, their works appear to fall between "good" and "bad" painting. Cutting- edge art always requires the spirit of rebellion to ensure its separation from more official or orthodox practices. In local Xi'an dialect, "bad" can be interpreted as "persistent" and "reckless". Thus, "bad painting" in Xi'an is not only an ideal of painting, but also a deviation in forms and standards.
The third unit titled "Instant Painting" invites Sichuan-based Japanese artist Kumi Usui to create a site-specific work on the second floor of OCAT Xi'an. The work was created during a month-long stay in Xi'an, and illustrates Kumi Usui's skills at working with free running lines to achieve a painterly installation which carriers a strong aura of "cloud" or "air", "water" or "sea" with an intention of growth, all the continuous scattering and gathering, flushing and wandering lines turn the space into a free field.
As an adjunct to the main exhibition, a fourth component of this project is "Art Scene", designed to focus on a little appreciated community of performance artists located in the city. This group of artists has the distinct quality of persistence. They might also be described as idealists, a spirit that is preserved and exhibited on the rare occasions they are afforded an opportunity to participate in artistic activities. Two performance artists have been invited in this part, thus pays respect to Xi'an performance art groups in an affirmation of their contribution to the city's art ecology.